Flat Buy Fees Never Higher than $250
ADESA Clear offers a $150 flat buy fee on units sold for $3,000 or less, and $250 flat buy fee on all other units.
Starting Bid = Reserve
Make the most of your time and work more efficiently. Every vehicle that gets a bid will sell!
80% First-Run Sale Rate
These vehicles are priced to move- don't waste your time browsing vehicles that won't sell.
Transparent Condition Reports with OBDII Scans
We'll do our absolute best to tell you everything we know about the vehicle. Most cars receive a test drive with eyes-and-ears mechanical evaluation, including our deepest level of OBDII scan.
How Do I Buy From Clear?
Start researching in minutes by creating your new ADESA Clear account, and get ready to enjoy all of these benefits on the new platform: 
Register
Super Fast Pages
No more waiting around for pages to load
Simplified Search With Expanded Filters
Easily find the inventory you need with enhanced search functionality
Optimized Condition Reports 
Quickly appraise vehicles without needing to scroll to find what you're looking for
Bid With a Single Click
Place bids on CRs and search pages, no need to make any selections
Brand New Mobile App
Take your bidding on the go, anywhere from your phone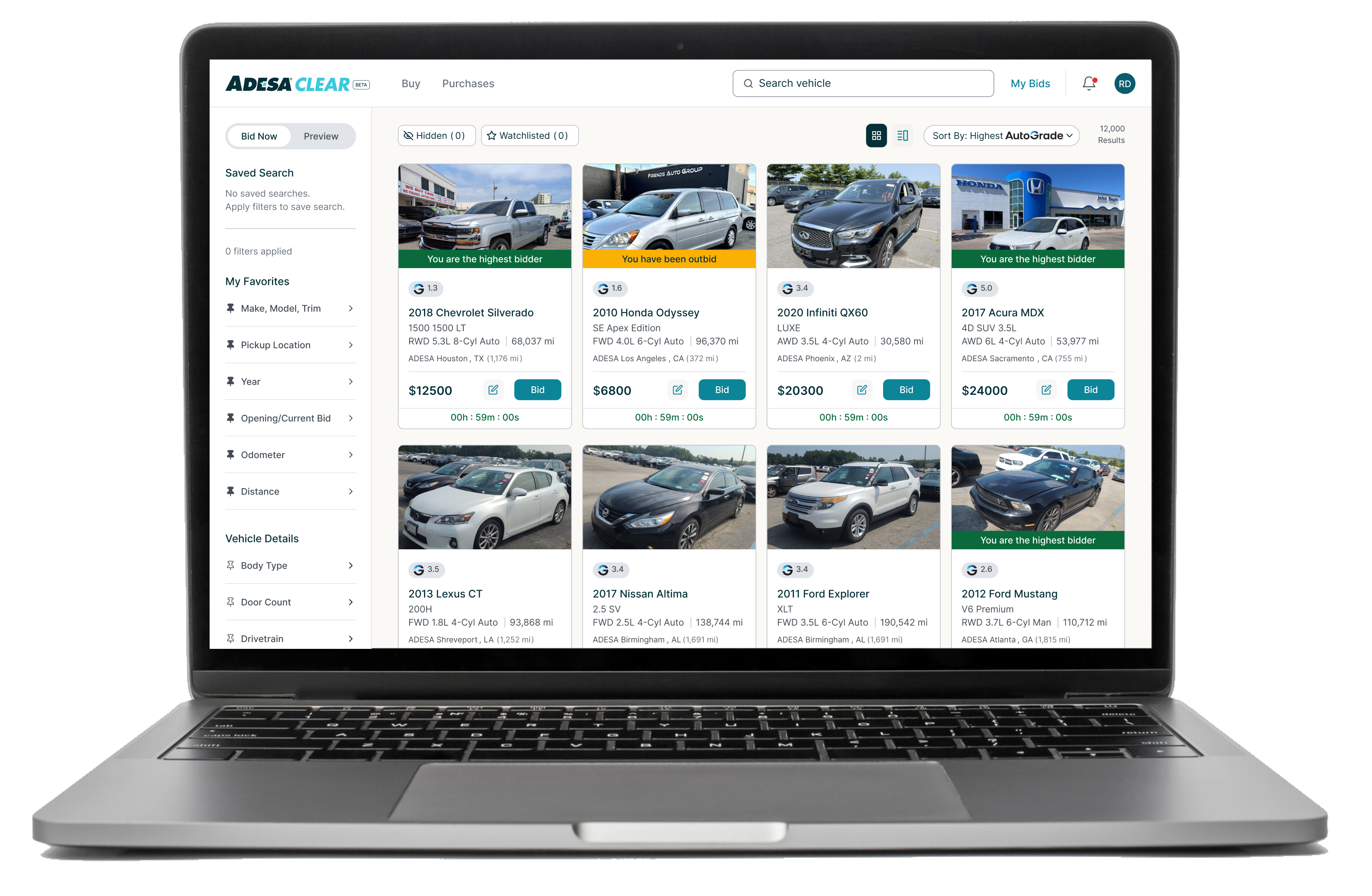 When Do Clear Sales Run?
Bid on Carvana's wholesale inventory in our online sales, available every day of the week!
Atlanta, GA
Bessemer, AL
Birmingham, AL
Charlotte, NC
Concord, NC
Haines City, FL
Jacksonville, FL
Orlando, FL
Raleigh, NC
Sarasota, FL
Tampa, FL
Winder, GA
While Clear sales are online, our inventory is still available to view in-person!
Feel free to visit any location to take a look at the inventory in that day's sale and "kick the tires" any time.
Preview Inventory (Login Required)
Hours of Operation
Mon – Fri: 7:30 a.m. – 8 p.m. ET
Sat: 9 a.m. – 3 p.m. ET